Thanks to the 'Goal' module, ACTITO enables you to identify people who visit your website and to collect information about their behavior on the site: pages visited by them and order confirmations.
A predefined script must be installed on every page of your website that you want to track. It can be easily added to any web page. After setting a cookie on the browser of your contacts, the purpose of this script will be to trigger the information feed towards ACTITO. ACTITO will store an interaction between the goal and this profile.
This information can be used to target profiles, add contacts to a segment or trigger communications (such as an abandoned cart reminder).

In order to set up a Goal, go to the 'Manage goals' application (Catalog > Goals > Manage goals) .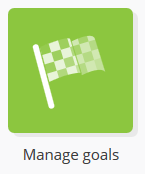 This is where you will be able to: