ACTITO enables you to write and send marketing or transactional SMS messages. They benefit from the same precision as the e-mail channel when it comes to targeting and customization.
An SMS text message can be customized with all the information linked to a Profile. It can also include an hyperlink toward a webpage or an ACTITO survey.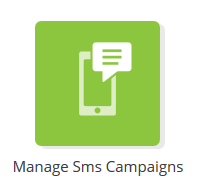 Most of the actions related to SMS are done in the 'Manage SMS campaigns' application.
You can access it through Catalog > Mobile Campaigns > Manage SMS Campaigns, or via the sidebar to the left of your screen.
In this application, you will be able to:
create a new SMS campaign and customize it

copy an SMS campaign

delete an SMS campaign

view the results of your SMS campaigns

export SMS interactions
A small configuration must be made before sending an SMS campaign. It is very short, but must be made by the ACTITO team. Before sending your first campaign, please contact your ACTITO support.
Before sending your first SMS campaign in ACTITO, we highly recommend you to read 'Sending an SMS'.