Managing the Publication URL
If your form is available via a private secure address, the form address will be auto-generated and unique per profile. The form will only be available through an ACTITO communication channel.
However, if your form is available through a public address, you can retrieve the address of your form within the ACTITO interface in order to share it on the communication channels of your choice.
See the publication url
To retrieve the address of your form, go to the 'Manage forms and pages' application ( Catalog > Forms and Pages > Manage forms and pages or directly via the quick menu).
Click on the 'See the publication url' button.

This URL is identical for all profiles for a same form.

It is however possible to customize it with two parameters:
Language
You can replace the language code ('en' in this example) by the code of each language in which your form is defined (in lowercase). This will determine the display language of your form, which will allow you to easily if you use different channels depending on the language.
If you indicate the code of a language in which the form was not translated, the address will give an error message.
Tip
It is possible to parameter display conditions according to the language version of the form.
Source
The 'AAA' expression can be replaced by the expression of your choice for each channel used to share a form.
This will allow you to :
differentiate the questions of your form according to the source (for example: social networks vs e-mails)

determine the efficiency of each form access channel
Define a specific URL
This new feature will enable you to replace the URL automatically generated after the publication of your form by a a custom URL. It is only available for forms shared through a public address.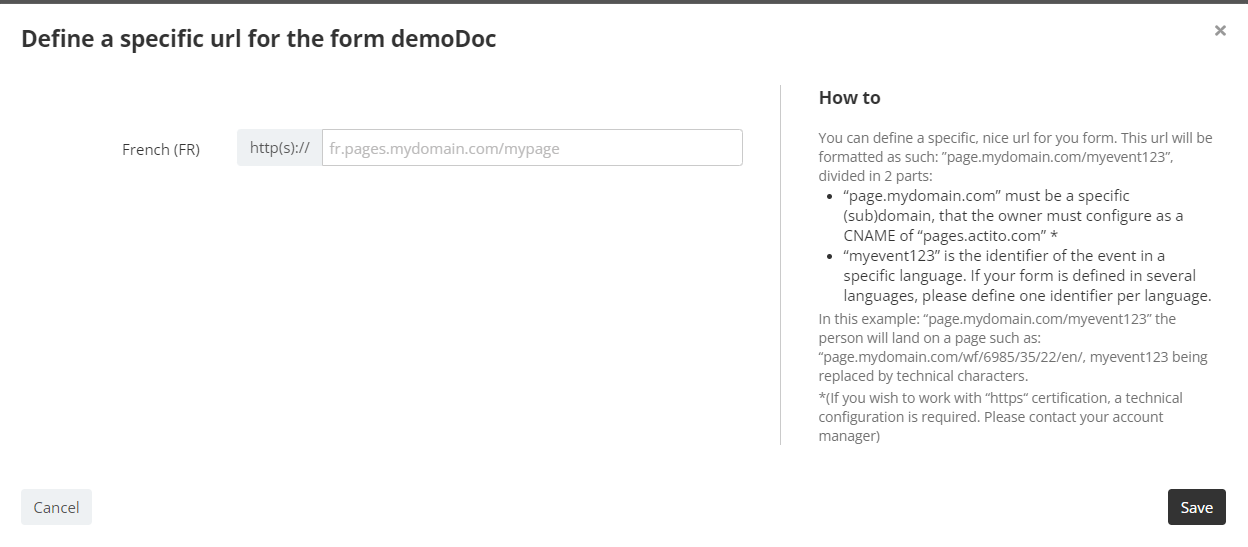 The custom URL will be divided in two separate parts:
The domain name, which must be specifically configured as a CNAME of your domain.

The event name, which must be a unique ID for each version of the form. If the form is multilingual, you must choose an ID for each language.
This is exclusively a display URL: when a contact will click on the link, he will be redirected to an Actito page and the 'event' part will be replaced by a string of technical characters.
Tip
If you wish to work with "https" certification, a technical configuration is required. Please contact your account manager