Actito gives you various options when it comes to the elaboration of personalized e-mail campaigns:
Using HTML templates: this option lets you design an e-mail by simply dragging and dropping predefined blocks. All you have to do next is defining their content.
Actito offers a library of predefined templates for each of the most frequently used e-mail types.
It is also possible for our teams to adapt templates to your own needs, for instance to fit your graphical charter or to include additional blocks matching your specifications.
Importing a HTML file: this allows you to create your own HTML code, while still benefiting from Actito's exclusive applications, such as customization, or opening and clicks reports.
Such e-mail campaigns can be either sent to a group of profiles selected by a targeting, in order to start a one-off interaction, or they can be activated and included in a scenario, in order to start a more comprehensive dialog, with more possibilities of interactions.
To set up en e-mail campaign, go to the 'Manage e-mail campaigns' application (Catalog > E-mail campaigns > Manage e-mail campaigns).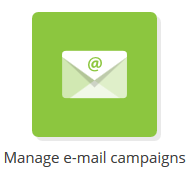 Tip
This application can be reached directly via the quick menu on the side bar.

Here you will be able to:
Create a new e-mail campaign

Edit the draft of a campaign

Copy an e-mail campaign

View the results of your e-mail campaigns
HTML
We advise you not to use an HTML code generator, because the final result might differ from your expectations.
Template
Using templates is the simplest way to build your campaign, as creating your message requires no technical knowledge. This allows you to focus exclusively on content and on the performance of your campaigns.