Understanding testing teams
If you have clear processes regarding who must validate an e-mail before sending it, testing teams should be your favored solution.
It allows you to predefine the list of colleagues, superiors, or clients who will receive the test e-mails when you draft a campaign.
These people do not have to be existing profiles in your database: instead of having a list of real recipients for each test, it is simply predefined.
As all test e-mails must be built after the attributes of real profiles, each tester (as in recipient of the test) will be associated with a profile of the database, whose attributes will be used to generate the test e-mail (personalizations & conditions).
Tip
If you only want to draft a list of profiles to use to model test e-mails and choose the test recipients afterward, you should use the "profile sample" option.
During the creation process (steps 2 and 3), you will be able to switch to the 'Profile sample' mode through a menu in the top right corner of the screen
Creating a testing team
In order to create a Testing team, go to the 'Testing groups' app (Catalogue > Profiles > Testing groups).
Click on 'Create a testing group', select the 'Testing team' option then click on 'Next'.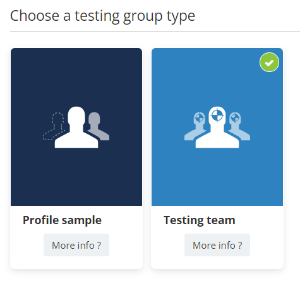 Using a testing team
At the 'Check and test' step, choose your testing group in the dropdown menu. Both profile samples and testing teams are available here.
When you select a testing team, your test profiles will be used to generate the e-mail by calculating the personalizations and conditions according to their attributes, then the tests will be sent to the tester assigned to these test profiles.
Select which 'profile-tester' pairs you want to use to generate your tests. The 'Comment' column helps you remember the attributes of these profiles, and the 'Tester' column specifies which of your collaborators is tied to this profile.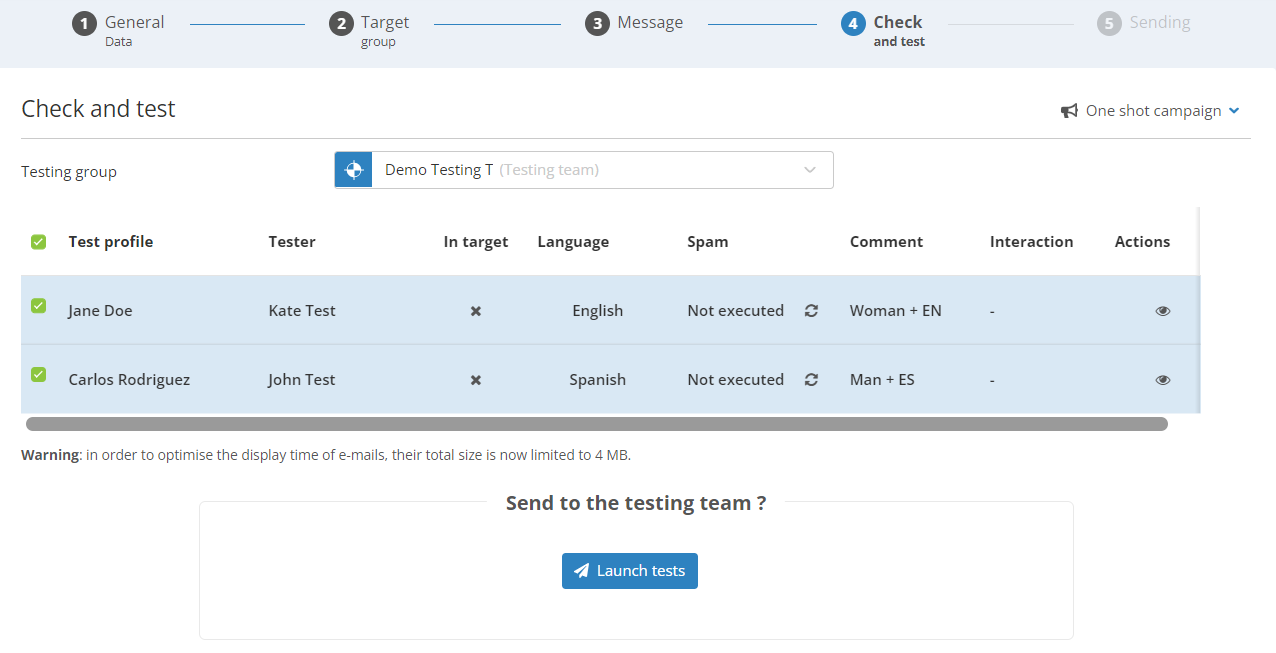 When you click on 'Launch tests', an e-mail will be generated based on each test profile.
It will not be sent to the profile's address, but rather directly to the testers of your testing team.
Overriding the testing team
What if you need to send tests to someone who does not belong to your testing team?
No need to edit the testing team for a one-shot, just scroll to the 'Quick tests' option, when you can enter external e-mail addresses.
If you do so, the e-mails will still be based on the test profiles you selected, but rather than being sent to their assigned tester, the tests will be sent to the external addresses you provided.

Tip
Using the 'Quick Tests' mode is effectively the same as using a 'Profile sample'.