Actito is committed to continuously improving its solution through frequent updates. On a regular basis, a new version of the platform is deployed in production, bringing in new contents, feature updates and optimizations.
Each update is announced through the notification center within the platform.
As a rule of thumb, such updates (also called 'Deployment In Production') occur every 3 weeks. However, the release schedule may be modified at the discretion of our Quality Assessment team.
Tip
Updates are released separately on each environment. They usually occur on a Tuesday for ENV-0 and ENV-1, and on the following Wednesday for ENV-3.
Let's review the latest updates deployed in the Actito platform !
May 2023 week 4
Actito's audience channel is evolving! To provide the immediacy that the previous app (managed by flat exports) lacked, Actito has developed a new integration with Facebook custom audiences.
After entering beta phase earlier this month, the Audiences integration is now available in your license.

It allows you to synchronize audiences in Actito with the custom audiences. This concept, used both on Facebook and Instagram, allows you to target your social media ads to a specific group of profiles who have already shown an interest in your services.

The profiles can be added to an audience through targetings calculated by automated audience rules, or through the scenario app.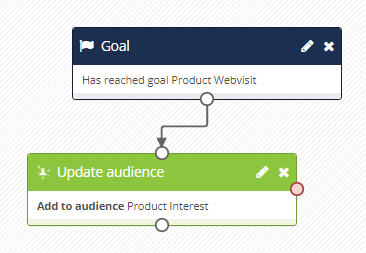 To connect Actito profiles with Facebook accounts, the e-mail address (or mobile phone number) must be a key of your database.
Additional styles options in template editor
Marketeers building their e-mail with the Actito standard templates now have additional features available in the editor.
It is now possible to define borders and change the radius of CTA buttons of your e-mails, in order to display rounder buttons.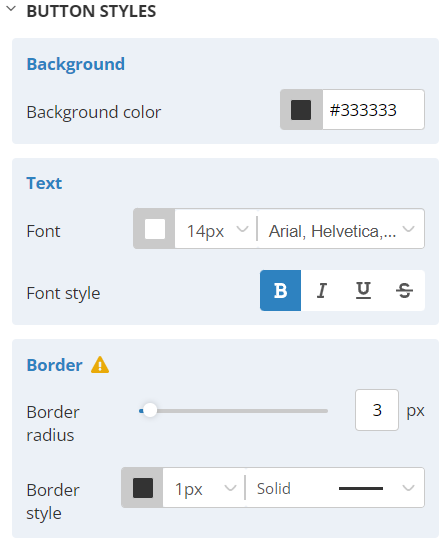 These button styles, as well as the padding and the borders applied to the whole blocks, can now also be updated in the 'Global styles' of the template, in order to modify all the blocks at once.
The additional styles are available in the Actito standard templates as well as blocks of the module library that contain CTA buttons.
If you want to use these features in a custom template, please contact your account manager.
Automated SSL certification on link domains
Actito is deploying a new solution to automatically implement and renew SSL certificates on your link domains, without requiring your intervention! These certificates allow you to secure your link domain, which is used to host your images, forms, mirror and unsubscribe links, but also the redirection that enables link tracking. Displaying a secure connection with this domain using the HTTPS protocol is important for the user experience of your profiles.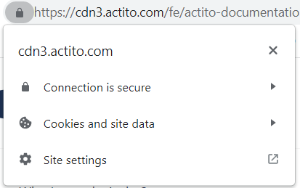 If you want to manage your certificates yourself, you can still continue to do so using the existing process.
Actito gives you several options to automate data imports in your license, such as ETL synchronizations or API imports. However, setting them up requires technical knowledge, and is usually done by developers or by the Actito teams.
To help marketeers visualize the synchronizations scheduled in their license, as well as past imports, you can now access the 'Manage imports' app.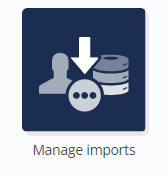 This app can help you check the status of imports that finished running, or check when your next automated synchronization is due to run, for instance.
Push notification reporting
Actito continues improving its integrated Push notifications channel, by enabling marketeers to directly visualize the statistics of their push campaigns in their license, and to target profiles based on their latest push interaction.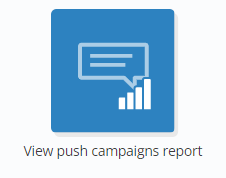 May 2023 week 1
Push notification integrated channel
Push Notification is the new integration in Actito's multi-channel offer. With this optional module, you will be directly connected to our push notifications provider, allowing you to easily create and send these useful short real-time messages both on your website or in your mobile application.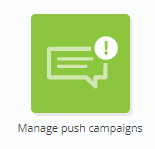 After setting up an integration, marketeers will be able to create scenarized push notification campaigns for web and/or apps.
These notifications can include text, images, emojis, links and even personalizations with the values stored in your Data Model.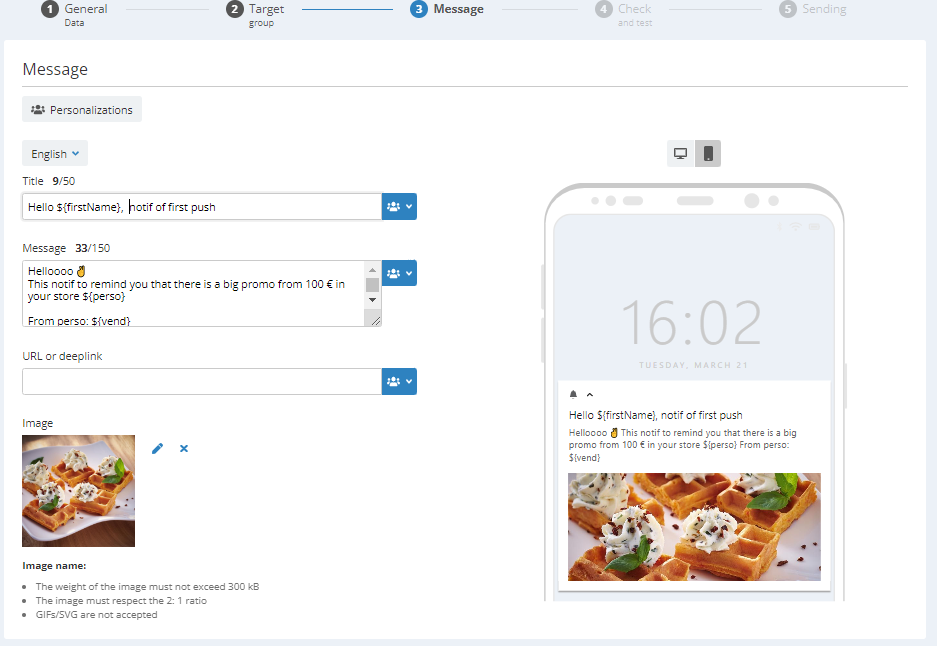 Once a campaign is activated, you will be able to use it in a scenario and trigger it through the various start events available in Actito. The message will be sent to all profiles who are opted-in to push notifications on one of their devices (web browser or mobile app). The subscriptions are automatically synchronized with Actito following the preferences of the profiles on your website or your app.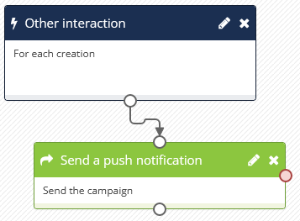 If you are interested by this optional module, do not hesitate to contact your account manager!
Campaign type filter and export feature in the Dashboard
After adding a date filter on the Dashboard last month, we continue improving the marketeers' Actito homepage!
In addition to the one-shot e-mail campaigns, the Dashboard now provides KPIs regarding the number of interactions of scenarized and transactional campaigns over the period of your choice.
Moreover, these stats can now be exported as well, with a breakdown of all the campaigns covered by this period.

Source filters in 'Deleted profiles' return flows
There is a new filter in return flows used to retrieve 'Deleted profiles', both those configured by marketeers in the interface ('Deleted profiles' incremental exports) and those implemented by technical operators through the API (webhooks and pre-setup exports).
Indeed, these flows are very useful to synchronize data with your own system, but you might not need to retrieve all the deletions if the information is already coming from your CRM.
For this reason, you can now filter the sources that you want to include in your export or webhook, with a distinction between sources within Actito and external ones.
Draft e-mail campaigns with RSS content can now be updated by API with the latest items of the RSS feed. This allow technical operators to create a campaign, refresh its content with the feed, and trigger the campaign, entirely by programmed API calls.
April 2023
Date filter in the Dashboard
Your Actito homepage, the Dashboard, displays a selection of useful KPIs for marketeers. You can now define a date filter to choose the time period analyzed in these KPIs.
In addition to the standard last 3 months, you can display the stats for the last 6, 9 or 12 months, or even choose your own time range.
This date filter will be applied to the aggregated stats of the mass e-mail and SMS campaigns sent on this DB, and to the engagement score and the evolution of the number of profiles or subscribers.

Graphical update of the 'Manage profiles' app
The interface to 'View' and 'Edit' a profile has been graphically updated to align its look and technology with other applications of Actito.
This also includes some quality of life updates, such as improving the user-friendliness of adding a subscription or a segment to a profile manually.

Retrieving the public link of a campaign report
To help sharing campaign reports with persons who might not have access to your Actito license, marketeers could already access and share a URL where this report is published.
This URL can now be retrieved by technical operators through a new API call.