Social networks are a key component to a marketeer's modern multichannel strategy. They allow to reach prospects and clients alike... but maybe not with the same message.
Indeed, to optimise the costs of social network ads campaigns, it's important as always to deliver the right message, at the right time, to the right audience.
Platforms like Facebook and Instagram use the concept of custom audiences to group people together in order to target them with relevant social ads, depending on the way they have interact with your business previously (visit, purchases,...), or to re-target them altogether if they did not convert.
As part of its multichannel offer, Actito enables you to push profiles into Facebook custom audiences (also compatible with Instagram), using the full wealth of information stored in your data model (target profiles who opened but did not click in your latest e-mail, for instance) and the behavior of these profiles in the Actito scenario builder.
The Audiences module allows you to:
To manage custom audiences, go to the 'Audiences' app (Catalog > Audiences) .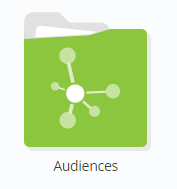 Audiences require actions in the Meta Business Suite.
To allow the synchronization with Facebook accounts, the e-mail address or the mobile phone number must be a key in your database.